I hope you're all doing well. I have exciting news!
Next week, @raj & I will be speaking at a conference.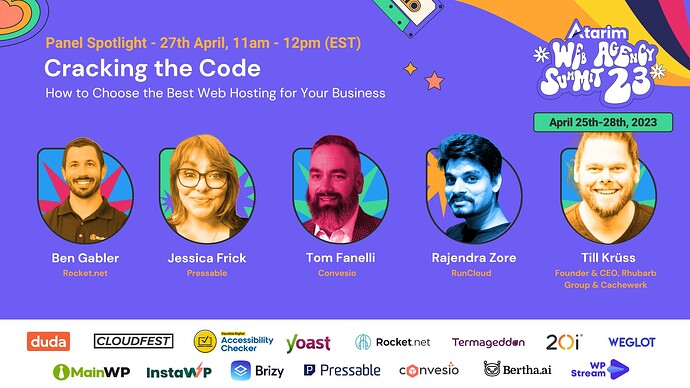 The web agency summit is back! Atarim has brought together the 5 leaders in the hosting space – our very own @raj, Till Krüss (maker of Object Cache Pro & Relay), Ben Gabler (of Rocket.net, a managed hosting provider), Jessica Frick (of Pressable), and Tom Fanelli (of Convesio).
I know I'm not speaking for myself when I say that I'm very excited to see how this discussion plays out. Obviously, we're all team RunCloud here … but it goes without saying that it's important to remember we don't operate in isolation + keep in touch with the complete landscape, especially considering some of the exciting plans we're working to bring to life for RunCloud as a product.
Reserve your spot today: The Web Agency Summit 2023 | Atarim
My talk will be on The Role of AI in Content and Search. But, the best part is that the parts Raj & I will only be one of the best parts.

There will be over 20 other talks hosted by incredible people from StellarWP, Yoast, XWP, Google, and Microsoft on topics ranging from hiring, building great team culture, and podcasting through to SEO.
I'm beyond excited to be involved, attend, and present as a speaker this year.
I hope we get to bump into some more fellow RunCloud users there!